KANT IN KALININGRAD
A large city such as Königsberg on the river Pregel, which, is the center of a kingdom, in which the provincial councils of the government are located, which has a university (for cultivation of the sciences) and which has also the right location for maritime commerce – a city which, by way of rivers, has the advantages of commerce both with the interior of the country and with neighboring and distant lands of different languages and customs can well be taken as an appropriate place for broadening one's knowledge of human beings as well as of the world….

— Kant, Anthropology from a Pragmatic Point of View (1798),
AA VII: 121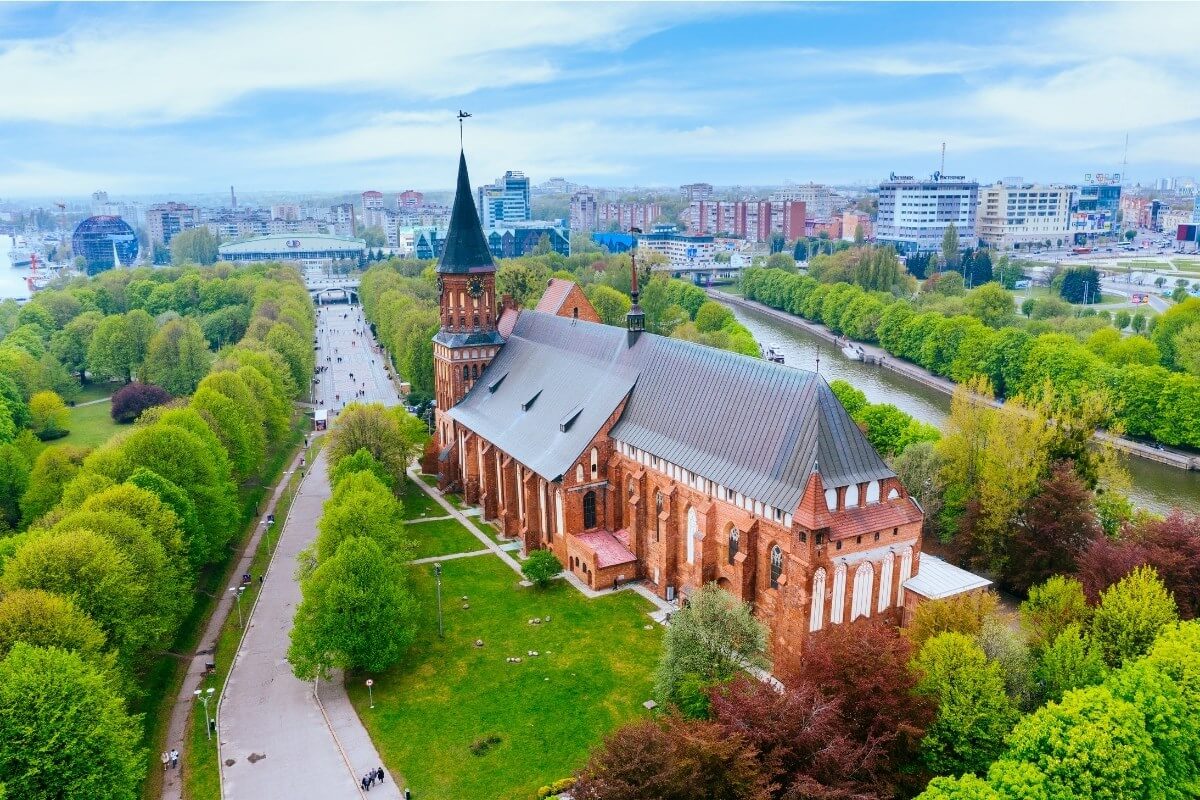 Kant island
The city the philosopher spent almost all his life in is now a most vibrant place for Kant scholarship, all located at the Immanuel Kant Baltic Federal University (IKBFU).
Explore the webpage – various interlocking activities can be found here:
The Academia Kantiana was founded in 2017 as successor to the "Kant Institute" and is directed by Prof. Dr. Nina Dmitrieva (Moscow & Kaliningrad). The Academia focuses on Kant's philosophy and its reception in Russian and other philosophical traditions, along with the history of Neo-Kantianism and the study of the Enlightenment project and its relevance for the twenty-first century The Academia also publishes the Kantian Journal (Kantovsky Sbornik), a quarterly journal looking back over forty years of history and is listed by the Higher Attestation Commission among Russia's top academic periodicals.
The Kantian Rationality Lab (KRL) is an international research project with 22 members, headed by Prof. Dr. Thomas Sturm (Barcelona & Kaliningrad). The group studies Kant's notion of rationality in relation to the sciences, our moral life, and the project of the Enlightenment in its manifold aspects and its significance for today. Running time: 2019-2021.
The XIVth International Kant-Congress The Cosmological Concept of Philosophy. Immanuel Kant 1724 – 2024 will also be held at IKBFU – starting exactly on Kant's 300th birthday on April 22, 2024. Here you find more information about it.
You will find many other activities on these webpage – international conferences and lectures, summer schools and Master and PhD training program, information about our publications and links to numerous Kant-related activities around the world. Enjoy!
And you can explore the ongoing work on a 3D-reconstruction of Kant's house and his life in the city of Königsberg here.